OFFICIAL MIKE JITTLOV GLOW-IN-THE-DARK WEBPAGE!
(Collect the Whole Set!)
Wow! You found it! The Hi-Tech Home-Spun Miracle holding Super-Sonic Digital Delights from the legendary "Wizard of Speed and Time" Feature Film!! It's...
The CD of SPEED and TIME!
The CD of SPEED and TIME!
The CD of SPEED and TIME!
The CD of SPEED and TIME!
The CD of SPEED and TIME!
The CD of SPEED and TIME!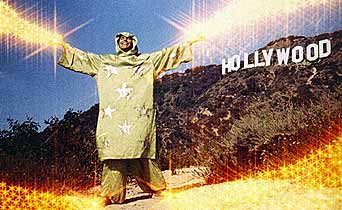 Wait...let me turn up the Font Volume...
Sorry!
John Massari's historic CD
Wizard of Speed and Time
The Lost Soundtracks
is no longer available via this site.
(This is the old ad, maintained for historians only.)

It is the only soundtrack CD ever made for this cult-classic feature film, AKA "The second-best film that Disney never distributed"!! (-Hollywood movie critic Sam Frank). (The first best film being Spielberg's "E.T.", which sounds totally different, and Steven doesn't even sing.)

Why has it taken so long? What ever happened to Warrior-Princess Corgi's Legendary WoSaT CD Contest?? It's a long story. You don't want to hear it. In a Nutshell: it's my fault. (I have 76 cassettes and reel-to-reel tapes of WoSaT's musical genesis, but do not have time, money or equipment to properly and professionally edit everything.)

"So this isn't the last-final-Jittlovian-cut?" you may ask. Maybe not. Or maybe yes. Whatever, don't hold your breath waiting! The World could end next month, and you'll be wondering for an eternity what this WoSaT CD sounded like! Instead, get this incredibly rare pre-final-cut Limited Edition Custom Pressing while it's actually available!! Get it now while it is oh so affordable!!! MyGawd, it's a mere...
-=()=-
This CD has all of John Massari's wonderful, completely orchestrated music from "The Wizard of Speed and Time" in 71 minutes of terrific, super-clean stereo! It also has the instrumental versions without my singing! It has all the versions of the Hollywood Theater March-Out! And it even has some of our Westworld Studios jam sessions, recorded in my uniquely charming Roamin' Sony Float-O-Sound! That's 39 tracks of fun-lovin', foot-stompin', fantastic fonix!!



WARNING! Do not play this CD while piloting a moving vehicle!

YES - the "Wizard Run" portion of The Lost Soundtracks really is that energizing! And the entire CD is far, far less than the cost of your speeding ticket!

What? You don't believe me? You don't believe the West Coast creator of the Happy Face, and the first man to broadcast silent movies on the radio?!? You don't believe John, whose first feature gig was "Killer Klowns from Outer Space"?!? Then feast your skeptical spectacles on this actual professional magazine review, which we didn't even have to pay for:



"Incredibly chipper, busy, happy-happy Americana music and songs, perfect to accompany a caffeine-induced cleaning or exercise spree. Hummable, maddening themes...played by orchestra and lots of electronics." - Film Score Monthly, Feb'2000, Page 34

Act now (and ask) - and YOU could even have your CD personally autographed by Movie Maestro John Massari and the Singin' Special Effects Wizard Mike Jittlov! It even comes with Free Liner Notes meticulously written and printed by John Massari! Think you could ever get something like this from John Williams and George Lucas? Hah!!


It's an Incredible Deal!
It's a Sensational Conversational!!
It's a Playable Collectible!!!
It's an MP3 Sample Right Here!!!!
The Wizard of Speed and Time Lost Soundtracks are unbelievably rare, cool, neat, and cheap - at just $20 (in U.S.$) per custom pressing! For orders outside the United States, the price is $35 (in U.S.$) which includes Registered Mail. All orders include handling and shipping, from Hollywood itself! Reality and Opportunity are fleeting! Send your CD orders and money NOW to:
Nope.
Gone.
Not here.

...But check out the Maestro's own Website!
JohnMassari.Com
"May All Your Good Dreams and Fine Wishes Come True!"

This WebRing of Speed and Time site owned by the Wizard (of Speed and Time)!
[ Skip Previous | Previous | Ring Home | Next | Skip Next ]
[ Random Site | List Sites | Join! ]
Webpage ©2003 by Mike Jittlov, All Rights Reserved.
Gosh...I feel so secure and protected now!

____________________-=*=-____________________
Click here if you really need this
to get back to the main page